Project Management Gantt Chart Guide
Intro
Most project managers, especially in software development, are aware of Gantt charts. It is one of the most popular projects management tools. Project Gantt Chart help improve productivity and efficiency in workflows and ensure that tasks are completed on time. Such scheduling charts can be applied to small projects and the most complex ones. The basics of Gantt's chart are fairly easy to understand. So, what are the secrets of the schedules developed by Henry Gantt? From this article, you will immediately understand what is Gantt charts and what they are for.
What is a Gantt chart?
The Gantt chart is a planning and task management tool invented by American engineer Henry Gantt. It looks like horizontal bars located between two axes: a list of tasks vertically and dates horizontally. Gantt planning charts are widely used for planning projects of all sizes in different industries and areas. The Gantt diagram shows not only the tasks themselves but also their sequence. This is a convenient way to show what work is scheduled to be done on a specific day and time. Project plan Gantt chart is often used in an Agile environment to track the status of projects and simplify the interaction of teams in working on a project.
Each bar in the Gantt chart schedule represents a step in a process (or task in a project), and its length depicts the amount of time it takes to complete that step or task - Gantt chart timeline. This allows you not to forget anything and do everything promptly. When you zoom in to see the whole picture, Gantt charts give you an idea of what needs to be done now, as well as showing who is responsible and when. Thus, it is also a great way for project managers to control the progress of the project. All in one space.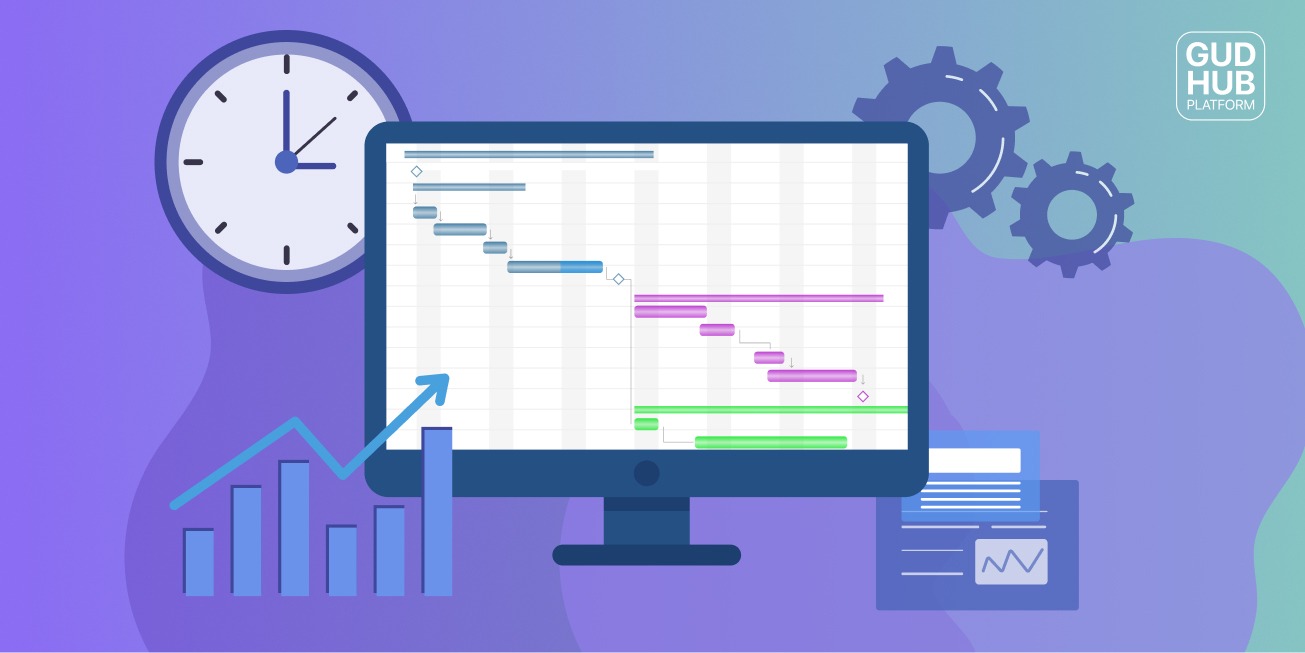 What is the Gantt chart used for?
As was already mentioned, most modern Gantt charts are cloud-based project management software tools that help heads and teams plan projects of all sizes. These project management charts allow teams to have complete control over the project planning process and easily make the necessary adjustments. With the help of such a task chart, resources can be allocated in such a way that priority projects can be completed before less important ones begin. If a date is moved or a milestone is moved, the Gantt's chart should automatically reflect these changes so that you always stay up to date with the latest developments in the project. In this way, it will be easier for different departments to work together most efficiently.
Thus, the Gantt chart is used for:
Scheduling projects and tasks in one or several projects at once
Project progress control
Task prioritization
Team scheduling
Comparison of planned and actual project timelines
Resource management
Organization of complex projects
Evaluation of timelines
Coordination with many stakeholders
What is a Gantt chart example?
Here you can see an example of a Gantt chart on the GudHub platform. Using GudHub platform as Gantt chart software, project managers can take full control of your project, create a schedule, see how work is progressing, and save all the necessary data about it in one place.
In this Gantt chart sample, scheduled tasks are displayed vertically, and using the horizontal time axis, you can find out the duration of each of them. The time from the start of the first task to the completion of the last is the duration of the entire project. Each of the tasks is assigned to one or more performers. Also, those who have access to the document can at any time see who is working on what task, and at what stage the project is.
Switching between tabs on top, you can view different areas of the project. For example, on the page "All activities", you have a task board with an expanded task view. Each task is arranged sequentially by date and day of the week, which you can change. You also can change the title activity by status: Assigned, In the process, Complete, Review, etc. Each status has its color. Pretty easy and understandable.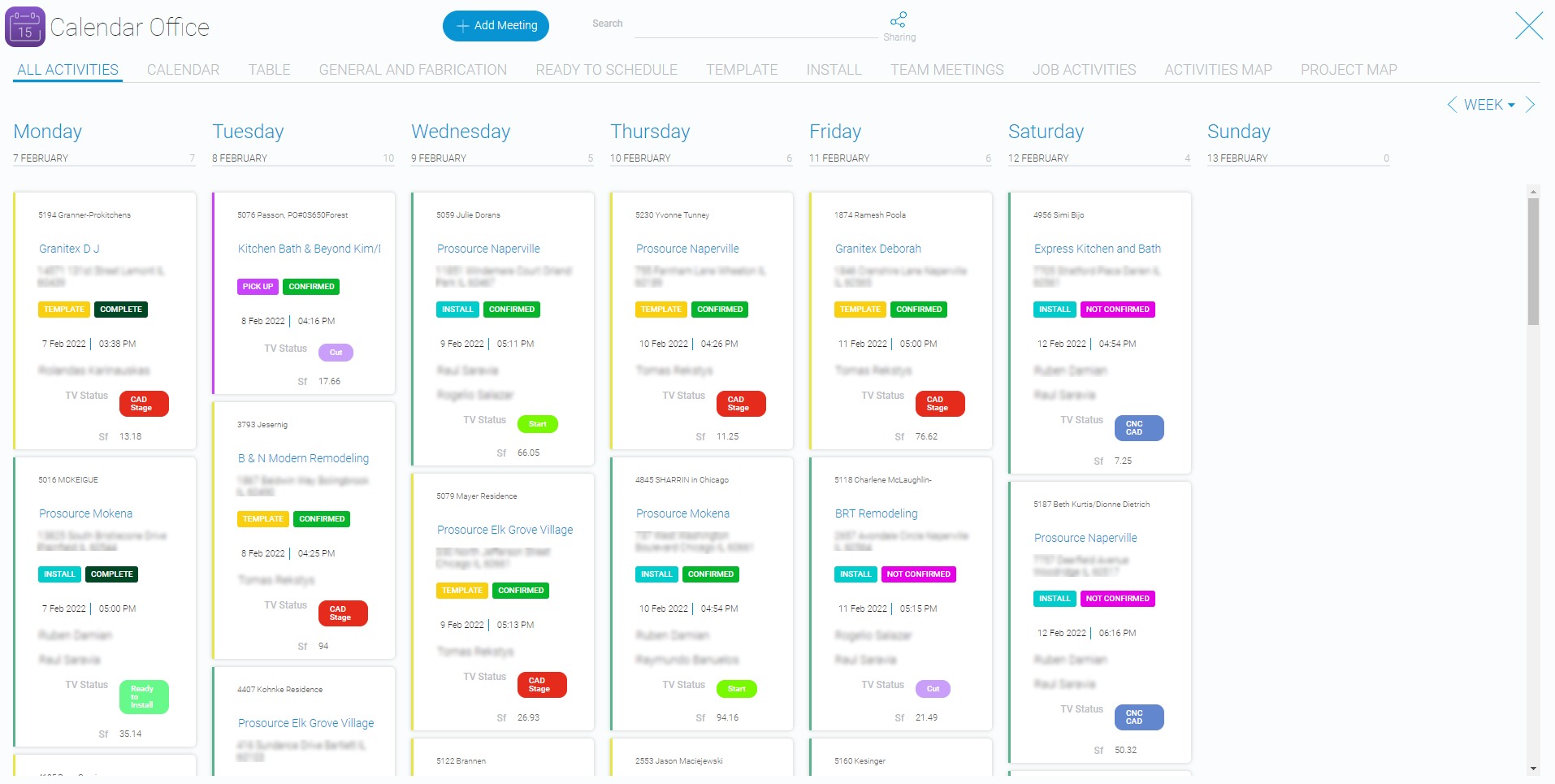 Go to the Gantt Calendar tab. Here you can see the data in a more compact and convenient form. By dragging the blocks, you can change the start date. Clicking on the task will open all the detailed information about it. Filter your data by activity type: Template, Install.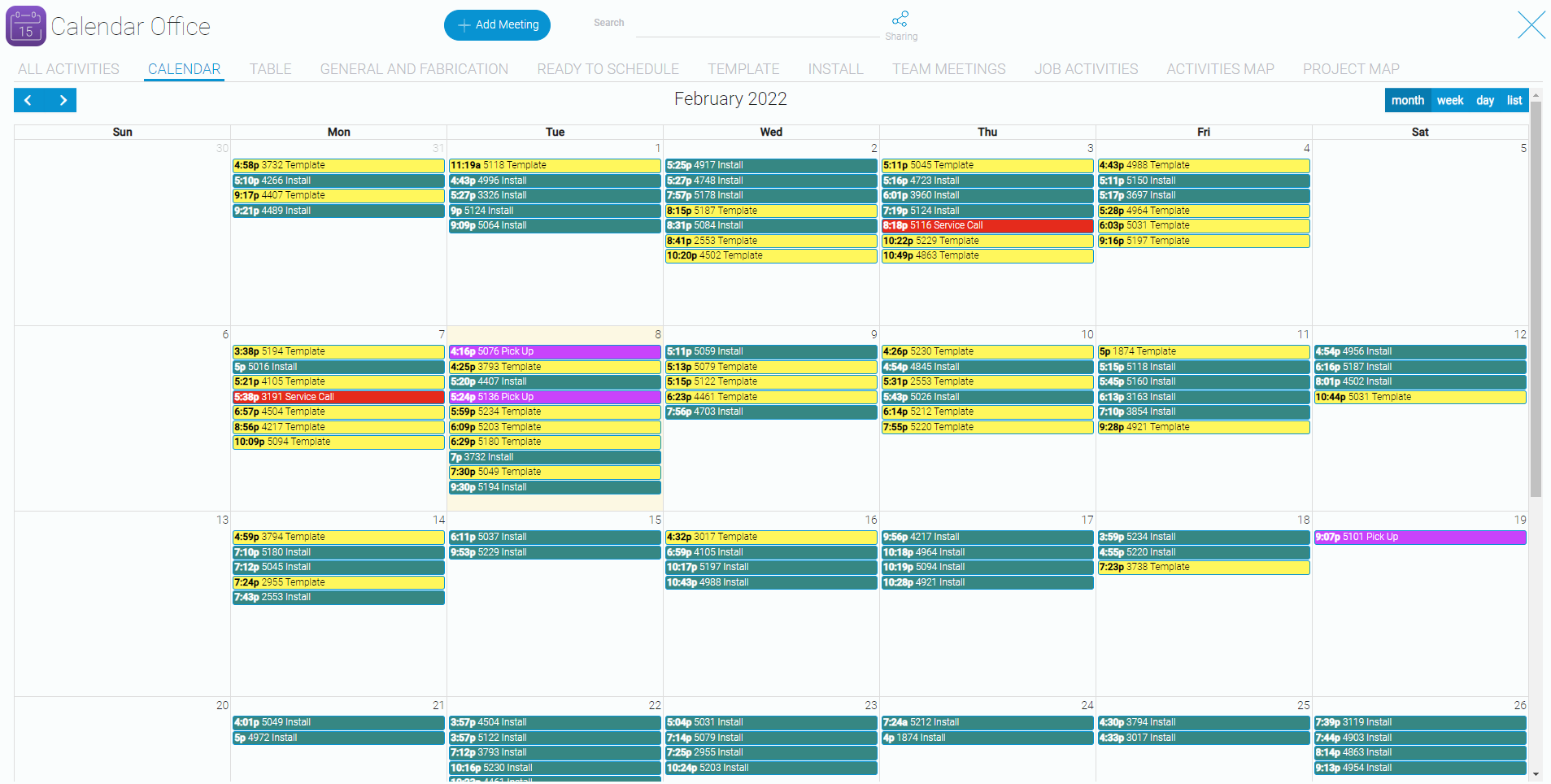 GudHub's Gantt chart is very easy to use. Here are all the necessary Gantt chart symbols. Click on the tab "Job activities" and customize the active timeline. Each block activity here is placed by type and has its ID number. Below you can see the day and time for which the task is assigned. Stretching these blocks you change the duration, dragging them - change the start date. Also, you can zoom in and out of it. In GudHub, the project Gantt chart is an additional convenient tool that requires almost no effort for additional settings but can be useful and visualize the work on most projects.


Use a Gantt chart on a GudHub development platform to plan and manage projects easily.
Is there a Gantt chart in Excel?
Unfortunately, Microsoft Excel does not have a built-in Gantt chart template as an option. However, you can quickly make a Gantt chart in Excel using the bar chart functionality and customizing it. The tool offers a wide range of charts of all kinds: from classic to petal histograms.
Keep in mind that although the Excel chart mimics the Gantt chart very well, it still retains the basic features of the standard Excel chart:
The project schedule Gantt chart in Excel will resize when tasks are added or removed.
You can change the Start date or Duration, the chart will reflect the changes and adjust automatically.
You can customize your Gantt style chart in Excel in a variety of ways by changing the fill color, border color, shadow. All of these options are available in the Data Format tab.
Once you've created your design, it's a good idea to save the Gantt chart planning in Excel as a template for future use. To do this, right-click in the chart area, and select "Save as Template" from the context menu.
Further, we will tell you how to create a Gantt chart in Excel. 
How do I create a Gantt chart in Excel?
To make the project planning Gantt chart you need in Excel, you need to sequentially do the following:
Create a table with a list of tasks. Before you build a Gantt schedule in Excel, you need to prepare an information array for its formation. All current tasks are sorted here by start time - the earlier the execution of a particular task starts, the higher the line occupied by it is located. Also, for each stage in the Gantt timeline, you need to specify the end date and duration in days. The most important thing here is to enter the maximum number of all tasks because in the future it can be difficult to do this - often you have to change the entire schedule format.
Building a diagram. To create a Gantt chart in Excel, select the following menu items in sequence: "Insert" - "Bar chart" - "Stacked Bar chart". After that, you need to bind its columns to the data entered earlier. To do this, use the "Select Data ..." command. You need to specify the correct data ​​for the "Series Name" cells and the correct range for the data field. When all the data is specified, you need to configure the display of tasks instead of their start dates on the left side of the graph. To do this, click on any of its lines, right-click on the "Select data ..." item, find the "Horizontal line labels" block - and click on the "Change" button. Now we can set the required range of cells from which the chart will take names for tasks - we registered them at the first stage.
Chart formatting. Here we need to configure the display of information in the graph. Foremost, we set the correct sequence of tasks - we click on their list, right-click to call the "Format Axis" menu - and check the box "Reverse Order". You can remove the description for columns with start and finish dates and duration. Also, for clarity, you can hide the beginning of lines illustrating tasks. By default, they go from the vertical axis regardless of the start date. You can do this by removing the fill and border lines. It also makes sense to remove extra spaces and remove the void left at the beginning of the diagram.
Watch the video with a step-by-step guide to see how to create professional Gantt charts with Excel.
Gantt chart software or Online Gantt charts?
The choice of a specialized tool for project management depends on the complexity and cost of the project. For small projects, free solutions or trial versions of the software are suitable. There are many convenient and simple project management programs with which you can create projects and project portfolios in the form of a Gantt chart online in a matter of minutes. The online approach makes it easy to share and plan projects. Any team member can see scheduled tasks and track statuses, update their tasks and attach files.
However, if you work in a large organization with numerous high-value projects going on at the same time, professional tools designed specifically for different types of business are more suitable for you, such as GudHub.
Benefits of a Gantt Chart
So, what are the Gantt Chart advantages, and do I need to use it? Let's recap:
Step-by-step project planning
Using a Gantt chart for project management, it is easy to facilitate and accelerate the achievement of company goals. It's not so scary to complete a list of tasks gradually. It is much more difficult to think about how to approach the implementation of a large and expensive project.
Control of deadlines in real-time
Project management Gantt charts help to avoid frequent transfers and failures of deadlines.
Team interaction
Gantt chart for a project helps the team communicate effectively on it.
Single source of information
Using an online Gantt chart, you can avoid long correspondence and frequent meetings. All the necessary information on the project is stored in one place.
Visualization of projects and tasks
The Gantt chart for project planning gives managers and team members a visual representation of the progress of the project, its status, performers, and deadlines. Visually, this amount of information is perceived much easier.
Work in real-time
Project management with the Gantt chart allows team members, investors, clients, and other stakeholders to be aware of all changes.
Conclusion
Whether you use a Gantt chart in project management or an alternative to visualize your project plan, it's a key step for every team, even if you're not the direct project manager. Visualization allows you to showcase the combination of all the elements of a project, share that information with your team, and adjust your plan as you go to keep things under control. After reading this guide to the Gantt chart, you learned the Gantt chart definition, how to use a Gantt chart, the features of this concept, how to make a Gantt chart in Excel, the benefits of using it, got some Gantt chart examples, and learned what to choose for work: online version or specialized software.
Make project plans and watch how the pieces come together with the help of GudHub development platform.